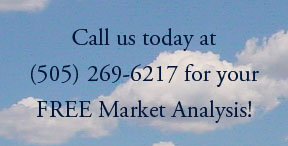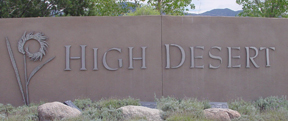 High Desert: Located in the Foothills just south of the Elena Gallegos Land Grant and Sandia Heights. High Desert is among the newest of Albuquerque's most exclusive residential areas. A variety of home sizes are available in this prestigious community; ranging from smaller 1,300 square foot patio homes, on up to large custom homes of well over 5,000 square feet. The lots in High Desert are varied as well; from small lots designed for patio homes to lots of over an acre; yet each lot offers beautiful mountain, city and sunset views!



Looking to buy a home in High Desert or elsewhere in Albuquerque?
Judson & Sharon can help find a home for you!
Call us today! 269-6217 or email us at smminabq@aol.com





$835,000



MLS

# 909981













Sharon and Judson do things right in getting your High Desert homes SOLD!
They know High Desert home values. They have sold High Desert homes for over 25 years,
and they continue to promote High Desert neighborhoods and their home values.
Below is a list of some of the High Desert homes that Sharon and Judson have SOLD.
| | | | | |
| --- | --- | --- | --- | --- |
| | | 6104 Buffalo Grass NE | SOLD! | |
| | | 12919 Desert Moon Place NE | SOLD! | |
| | | 13230 Slateridge Place NE | SOLD! | |
| | | 13605 Elena Gallegos Place NE | SOLD! | |
| | | 13740 Apache Plume NE | SOLD! | |
| | | 13608 Elena Gallegos Place NE | SOLD! | |
| | | 12915 Desert Moon Place NE | SOLD! | |
| | | 12801 Calle Del Oso Place NE | SOLD! | |
| | | 6109 Club Cholla Court NE | SOLD! | |
| | | 12609 Sunset Ridge Place NE | | |
| | | 13230 Slateridge Place NE | SOLD! | |
| | | 6412 Sage Point Court NE | SOLD! | |
| | | 13027 Sandia Point Road NE | SOLD! | |
| | | 12601 Desert Sky Avenue NE | SOLD! | |
| | | 13227 Jo Lane NE | SOLD! | |
| | | 13009 Juniper Canyon Trail NE | SOLD! | |
| | | 12408 Calle Del Oso NE | SOLD! | |
| | | 13023 Sandia Point NE | SOLD! | |
| | | 6024 Paper Flower Place NE | SOLD! | |
| | | 12716 Desert Sky Avenue NE | SOLD! | |
| | | 13036 Sandia Point NE | SOLD! | |
| | | 6415 Consuelo Point NE | SOLD! | |
| | | 6028 Paper Flower Place NE | SOLD! | |
| | | 12801 Sandia Ridge Place NE | SOLD! | |
| | | 12809 Desert Sky Avenue NE | SOLD! | |
| | | 12919 Sunrise Trail NE | SOLD! | |
| | | 12900 Sunrise Trail Place NE | SOLD! | |
| | | 13301 Russian Sage NE | SOLD! | |
| | | 12724 Sandia Ridge Place NE | SOLD! | |