Sandia Heights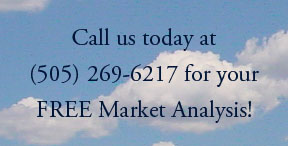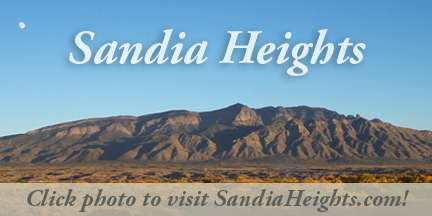 Sandia Heights boasts some of the largest lots in the Albuquerque area,with many home sites reaching an acre or more in size. Restrictive covenants requiring earth tone exteriors and only natural vegetation visible from the street foster a very "Southwestern" flavor in this neighborhood. Resting at the base of the Sandia foothills, near the Elena Gallegos picnic area and the Sandia Peak Tramway, Sandia Heights homes offer truly stunning views of sunsets, city lights, and the massive mountain peak simmediately to the east, plus easy access to wonderful hiking/biking trails within the adjacent National Forest lands. All Sandia Heights homes are luxurious and relaxing, ranging in size from smaller patio homes under 2000 square feet to large custom homes of over 5000 square feet.
Click the photo or address to view the home! Take a Virtual Tour by clicking the icon on the left.

Looking to buy a home in Sandia Heights or elsewhere in Albuquerque?
Judson & Sharon can help find a home for you!
Call us today (505) 269-6217 or email us at smminabq@aol.com
| | | | | |
| --- | --- | --- | --- | --- |
| | | | $899,900 | MLS# 68138 |

Sharon and Judson do things right in getting your Sandia Heights home SOLD!
They know Sandia Heights home values. They have sold Sandia Heights homes for over 25 years,
and they continue to promote Sandia Heights neighborhoods and their home values.

Below is a list of some of the Sandia Heights homes that Sharon and Judson have SOLD.
| | | | |
| --- | --- | --- | --- |
| | 66 Pinon Hill Place | SOLD ! | |
| | 1053 Red Oaks Loop NE | SOLD! | |
| | 12709 Colony Place NE | SOLD! | |
| | 981 Antelope Avenue | SOLD! | |
| | 1484 Morning Glory Road NE | SOLD! | |
| | 1518 Eagle Ridge Terrace NE | SOLD! | |
| | 963 Antelope Avenue NE | SOLD! | |
| | 1184 Laurel Loop NE | SOLD! | |
| | 1186 Laurel Loop NE | SOLD! | |
| | 102 Juniper Hill Place NE | | |
| | 2881 Tramway Place NE | | |
| | 1167 Laurel Loop NE | | |
| | 760-9 Tramway Lane NE | SOLD! | |
| | 2426 Tramway Terrace Court NE | SOLD! | |
| | 35 Sandia Heights Drive NE | | |
| | 1140 Marigold Drive | SOLD! | |
| | 872 Tramway Lane NE | SOLD! | |
| | 572 Black Bear Road NE | SOLD! | |
| | 605 Cedar Hill Road NE | SOLD! | |
| | 720-4 Tramway Lane NE | SOLD! | |
| | 1714 Quail Run Court NE | SOLD! | |
| | 3 Sandia Heights NE | SOLD! | |
| | 2536 Tramway Terrace Court NE | SOLD! | |
| | | SOLD! | |
| | | SOLD! | |
| | | | |
| | | | |
| | 1059 Red Oaks Loop NE | SOLD! | |
| | | | |
| | | SOLD! | |
| | | SOLD! | |
| | 1840 Tramway Terrace Loop NE | SOLD! | |
| | | SOLD! | |
| | 1439 Honeysuckle Drive NE | SOLD! | |
| | 1185 Laurel Loop NE | SOLD! | |
| | 959 Antelope Ave NE | SOLD! | |
| | 71137 Tramway Place NE | SOLD! | |
| | 1159 Laurel Loop NE | SOLD! | |
| | 2870 Tramway Circle NE | SOLD! | |
| | 1132 Marigold NE | SOLD! | |
| | 640 Cougar Loop Place NE | SOLD! | |
| | Calle De Rafael NE | SOLD! | |
| | Tramway Lane NE | SOLD! | |
| | | SOLD! | |
| | Tramway Terrace NE | SOLD! | |